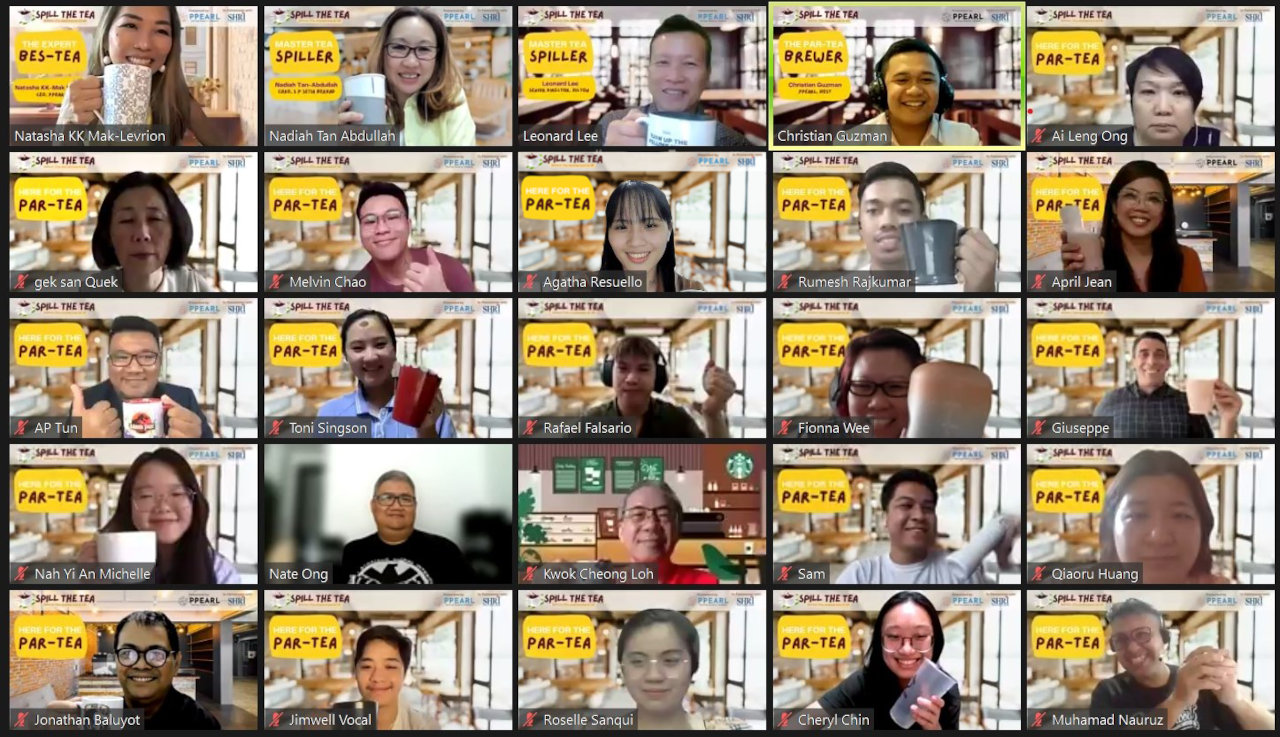 On January 14, we've finally launched our webinar series 'Spill The Tea: Behind-the-Scenes look at HR!' Organised by PPEARL, in partnership with Singapore Human Resources Institute (SHRI), a leading, not-for-profit, professional HR body, which represents a strong network of 6,000 human resource professionals.
We've got a sip on the HR experience from the panelists and our audience consisting of HR professionals from different industries, as they share the challenges they have faced for the last 12 months, all the good, the bad, and the whole truth of becoming HR. At each session, expect a crowd-sourced, on-the-ground view of HR trends with two guests and PPEARL's CEO, Natasha KK Mak-Levrion, set in a casual and informal scene, like friends in a virtual coffee shop chatting over a cuppa of their favourite beverage.
Here's a summary of our tea spilling last session: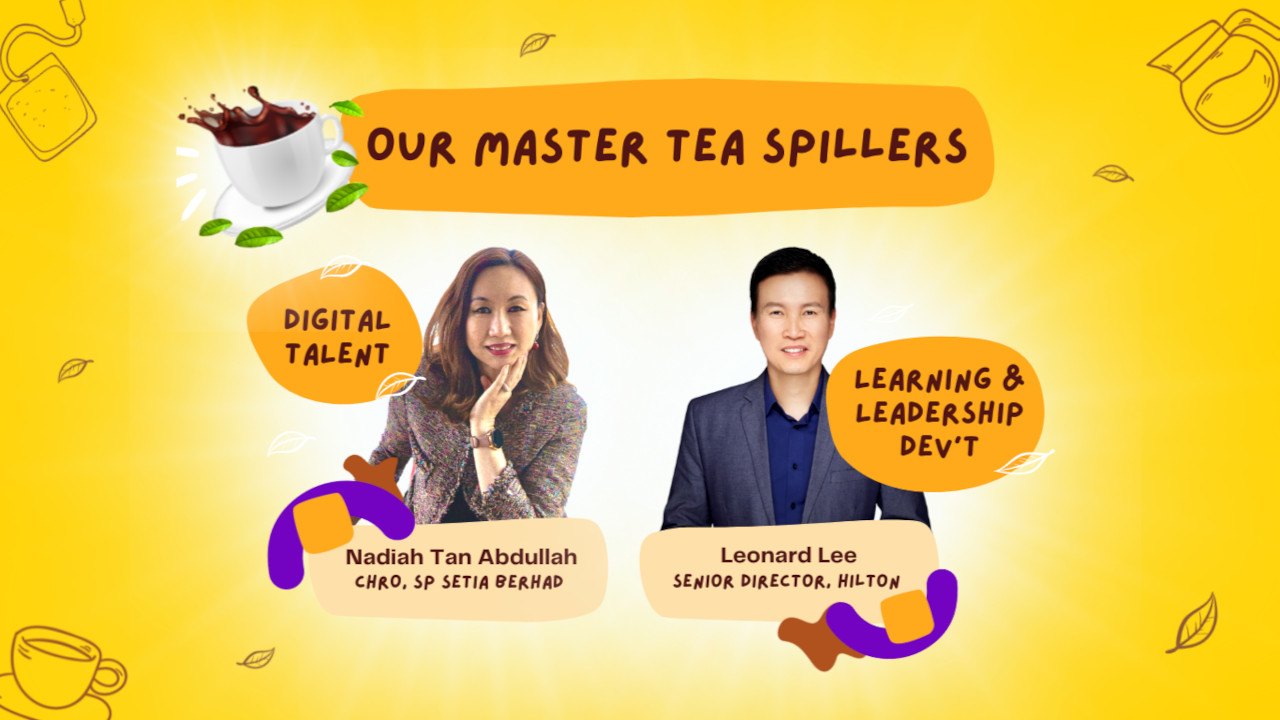 Our Master Tea Spillers
At the first session, Nadiah Tan Abdullah (CHRO of S P Setia Berhad) spilled the tea on how she  has built a Digital Culture and her involvement in creating positive and sustainable development platforms for Environmental, Social, and Corporate Governance (ESG). We also have Leonard Lee (Senior Director of Hilton) spill the tea on Learning & Leadership Development, Developing and Retaining Localized Talent, and Diversity & Inclusion in a Leadership perspective.
Nadiah Tan-Abdullah
"Things have to be deployed efficiently in a robust rhythm. The pandemic has shown, being human means having empathetic leadership."
What have you been working on for the past 12 months?
The last 12 months have been very challenging for many organisations and many have been struggling and striving to pivot to the new norm. Our social interaction and contract between employer and employee took a different face altogether and HR had to play a major role in enabling these to be a success factor instead of being a barrier. It all came in as blessings in disguise as we were already embarking on our Digital Transformation journey and the shift to be relevant to the future of work – COVID did the job for us. 
Why is sustainability an important agenda?
To have a clear framework for future longevity, growth and survival. The world has changed and ESG is a key expectation from all stakeholders. Regulators are also asking for higher governance and there is a need for organisations to be responsible not just for their own, but to the larger community and environment.
Leonard Lee
"It's hard to attract talent because there's no certainty or future once this pandemic is behind us, but I'm optimistic that there will be vertical growth."
What has kept you busy for the past 12 months?
Hospitality has been the 2nd most impacted industry apart from Airlines because of COVID, the pandemic has caused us to plateau. Our industry has been hard hit and it is now tough to move talent around and people are leaving because there's an issue around not seeing prospects. How do we retain our talent especially our top talent in the company? We look into the pillar of Leadership Development and Learning, If we can provide that engagement we can retain Top and Localized Talent. 
What is a unique thing that you have done in the Diversity & Inclusion space?
Diversity & Inclusion has been important for some time now, it is part of Hilton's drive to ensure a fairer representation of talent in our markets. We are looking at increasing female leaders in Asia-Pacific as well as having more local market leaders. Was it successful? Yes and No – We had huge success in the initial stages where we moved the needle from 3% female General Managers to currently about 20% in APAC. We are also seeing more female and local leaders being nominated for our leadership programs which bode well when it comes to building our talent pipeline.
Hot Topic: The Great Resignation
We move on to the next segment called the Hot Topic, where we discuss what's trending in the HR industry. For the past 6 months, the 'Great Resignation' has been a major buzzword as it strikes fear in a lot of industries. We've asked our audience the following questions:
Are you dealing with the "Great Resignation" in your respective organisations?

Is the attrition high? Yes/No? what are the percentages?

Is it across the board or do you see a higher number in certain functional areas or geographies?

How are you dealing with it?
Here are the responses that we got:
Fast Talk!
For our Fast Talk segment, we've asked our audience crowd-sourced questions related to HR trends answered through a poll.
Here are the results:
What do leaders reward more – Talent or Hard Work?
What do leaders reward more – Talent or Hard Work?
What drives employees to resign – Lack of Work-Life Balance or Poor Company Culture?
Lack of Work-Life Balance –
22%
Poor Company Culture –
78%
What is the Future of Work – Human or AI?
Artificial Intelligence (AI) –
55%
In this list, what are the top 3 things which would concern you most?
1st – Gauge Employee Engagement –
38%
2nd – Manage Burnout Risks –
29%
3rd – Uncover and Fast Track Hidden Talent –
14%
4th – Pinpoint Attrition Hotspots –
10%
5th – Understand Diversity and Inclusion Metrics –
5%
5th – Identify Communities/Cliques in Hybrid Work Environment –
5%
5th – Identify Communities/Cliques in Hybrid Work Environment –
0%
6th – Identify Bottlenecks in Information/Communication Flow –
0%
A Toast To Fri-YAY!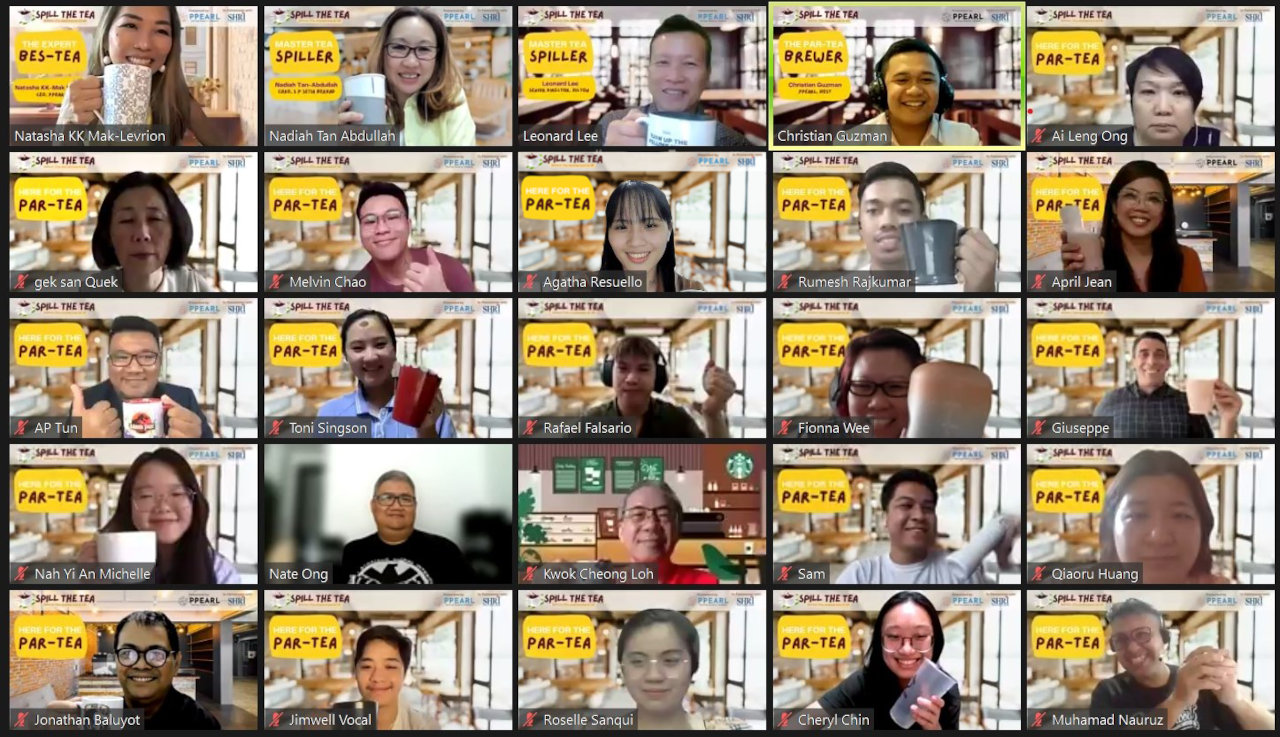 Lastly, as a way to end our discussion we've asked our audience "What's your favourite thing to do to unwind on a Fri-YAY?" Some answered that they spend time with their families, read books, cycle to destress, and some prefer to just chill! For us, it's important for everyone to take a break, sip some tea, and refresh after a long day of hard work. How about you, what do you to unwind on a Fri-YAY?
Did you miss our event? Not to worry, you can re-watch the tea spilling or join our next session by registering below.
See you at the next Tea Party!
– The PPEARL Team
Watch The Recording Here
Let's keep in touch
Connect with us on our social media accounts: