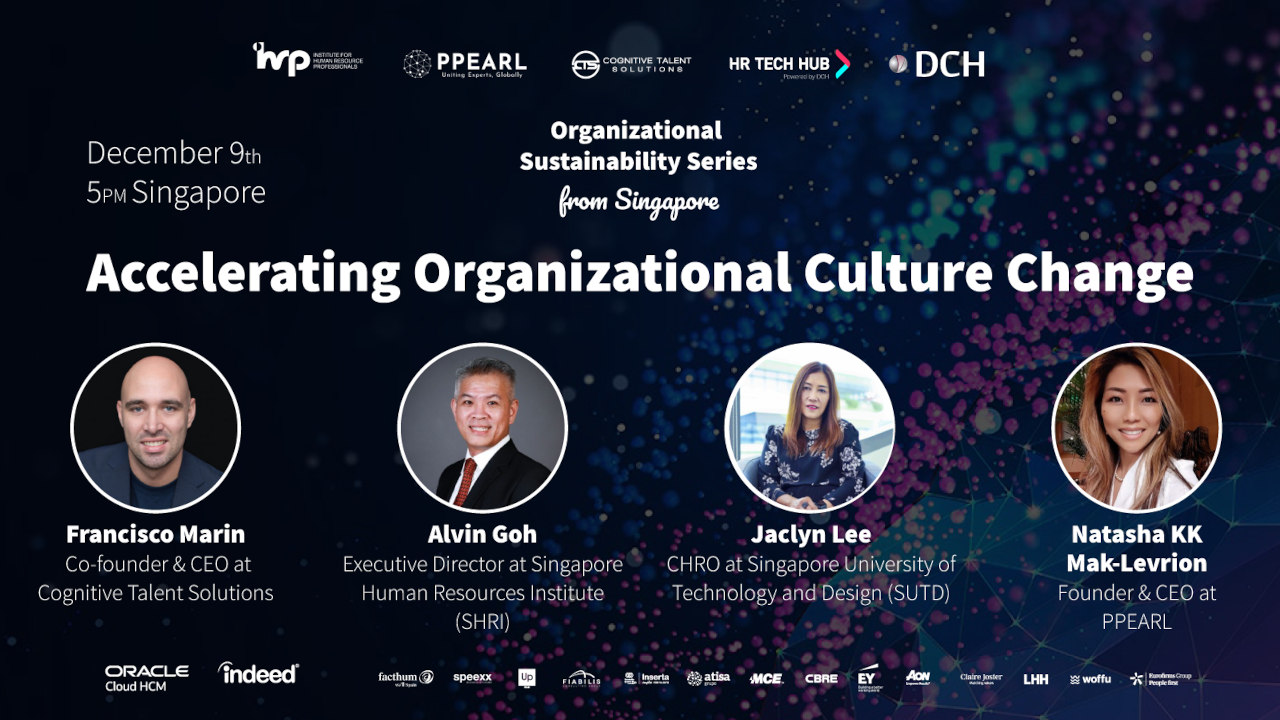 There are many ways that organizations can use technologies to help accelerate their organizational culture change initiatives. One key consideration is to focus on implementing new technology, changing people's expectations of how they interact with each other and their tools to accelerate change.
The 'Organizational Sustainability Series – from Singapore.' is a webinar series co-organized by PPEARL, Cognitive Talent Solutions (CTS), DCH – International Organization of Human Capital Directors, and HR Tech Hub. In partnership with Institute for Human Resource Professionals (IHRP).
The second episode entitled "Accelerating Organizational Culture Change" will be held on December 9 at 5PM SGT. This episode will focus on the adoption of new technologies, cultural and social transformations, and the role of technology in enabling and accelerating change adoption. This will be structured as a fireside chat, providing the audience with the speakers' perspective on the best tools, resources and practices that help companies accelerate organizational change in the current environment.
Francisco Marin is the Co-founder & CEO at Cognitive Talent Solutions, a leading People Analytics vendor specializing in Organizational Network Analysis (ONA), being recognized as one of the global top 12 vendors shaping the ONA space.
Alvin Goh is an accomplished international senior business manager with over 15 years' of experience in the financial and consulting industry where he played key roles in various business and human capital transformation projects that has translated to net bottom line growth of USD100million. He spent the last 7 years in a regional bank covering 15 cities as the Head of Human Capital and Head of CEO Office where he was responsible for driving the business transformation and human capital strategy and initiatives.
Highly adapt at corporate transformation, human capital management and business growth, Alvin enjoys the challenges of solving complex business issues. Both his practical competencies and influential people skills have been well evidenced in various M&A; transformational and corporate development projects that he has personally undertaken. More recently, he provided end to end leadership in a business transformation and created a new operating model that resulted in an immense improvement in employee satisfaction, as well as top-line business growth. He was also instrumental in conceptualization & development of a predictive and preventive human capital model that has enabled the identification of talent earlier in their careers and deployment of these talents.
Dr Jaclyn Lee is currently the Chief Human Resource Officer for the Singapore University of Technology and Design. She has over 25 years of HR experience and is viewed by the community as a thought leader in the areas of HR Technology and Analytics. Her diverse HR experience hails from senior HR roles held in manufacturing, social services, education, high tech and the security industry. She also has international and regional HR experience having worked in three large global firms such as General Motors, NEC Corporation and Certis.
In 2019 she received the Public Administration Medal (Silver) for her contributions to Education.
Jaclyn has a PhD from University of Twente, Masters in both Business and HR and a BSc in Psychology. She is also currently the Senior Fellow with the SUTD Academy.
Natasha KK Mak-Levrion is the Founder & CEO at PPEARL, a consulting firm headquartered in Singapore with offices in Australia, Philippines, and South Africa. PPEARL's consulting model is geared towards the Future of Work where their network of over 1,200 Experts deliver work across 6 broad domains: People, Digital Innovation, Business, Sustainability, Change Management, and Design.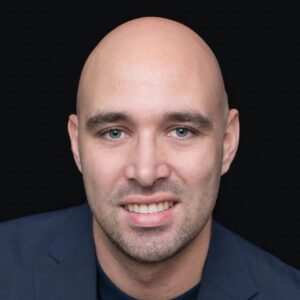 Cognitive Talent Solutions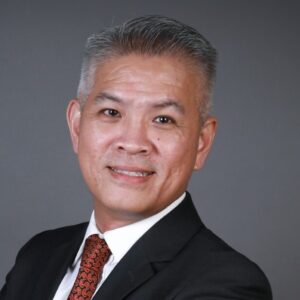 Singapore Human Resources Institute (SHRI)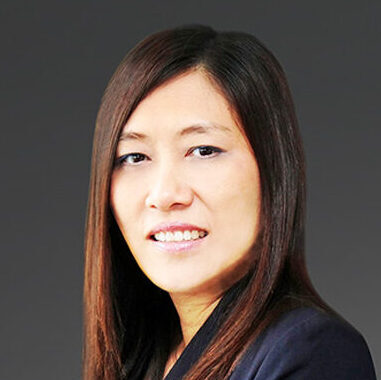 Singapore University of Technology and Design (SUTD)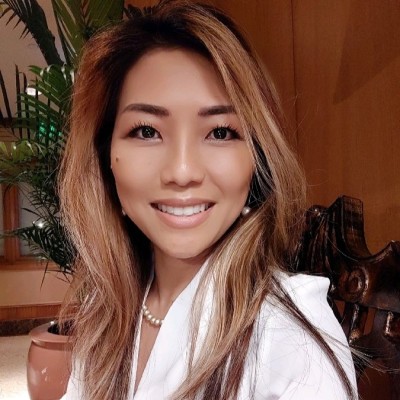 Let's keep in touch
Connect with us on our social media accounts: